Family Connection Chiropractic Reviews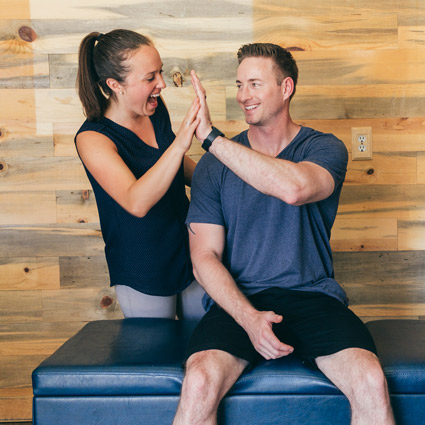 What Our San Diego Patients Say
At Family Connection Chiropractic we love when patients share with us their feedback and comments after chiropractic care. Please read our patient testimonials below to see what other people have achieved through their tailored treatment plans with us.
Share your stories too! Click here to send us your feedback so that we can help to spread the word about the benefits of natural Family Connection Chiropractic care. For more information, or to schedule an appointment contact us today.

Amazing Doctor
Dr. Katie is amazing! I've had pelvic pain issues for years and whenever I see her consistently my pain is so much better or totally nonexistent. She has such a great energy and is genuinely cares about every person who walks through her door. I'm always uplifted after going for an adjustment!
– Kelsey G.
Goes Above and Beyond
Dr. Katie is an amazing chiropractor and she is genuinely invested in the overall health of her patients. She is very passionate about what she does and her energy and warmth makes me look forward to coming in to get adjusted. Dr. Katie is adaptable and adjusts to peoples different levels of treatment comfort. She goes above and beyond just adjusting; she also provides guidance for patients who are interested in a holistic approach to health.
– Alli P.
Highly Recommend
Where do I start. I was searching for a new Dr. for sometime. I just hadn't met the right one. The minute I met Dr. Katie I knew. She is very passionate about her work and it shows. From the beginning stages to till now she has gone above and beyond to make sure MY needs are met. I highly recommend Dr. Katie!
– Randy F.
Amazing Healer
Dr. Katie is a gem! She is an amazing healer and cares deeply for her clients well being. I bring my whole family and we have all seen significant benefit in our health from reduction in headaches, colds and anxiety. That would be enough to keep coming back, but we also love being around her contagious positivity…my kids even like going so that's the real proof! Thanks Dr. Katie!
– Jamie G.
Welcomed with Open Arms
Dr. Katie is AMAZING!! I was welcomed with open arms and felt very cared and loved for. The staff is warm and it feels like a family in the office. I cannot recommend a better Chiropractor in the San Diego area. Dr. Katie works so well with each individual to meet their specific needs, especially for mamas and kiddos you can tell that she really cares about each individual and wants to see you succeed. Thank you family connection chiropractic for providing such a special place to heal!
– Bri L.
Outstanding!
Dr Katie is OUTSTANDING! She genuinely listens and cares about her patients health and well being. Her presence is welcoming, authentic, and you won't find a better Chiropractor! I am so blessed to have met this woman and can't recommend her enough!
– Rebecca T.
Feel at Home
Let me start by saying if you need a chiro and you are in San Diego and you aren't going to Dr.Katie at FCC you are making a HUGE mistake! Now let me tell you why in 6 years of going to a chiropractor she's the best I've had! From the moment you walk in the door you can tell the staff cares about you which is very different for me other places I've been it's just get in and get out! Taylor the receptionist is welcoming and makes you feel at home! Once you are on the table Dr. Katie engages you and definitely makes you feel at home and wants to know what your current adjustment needs are! She also wants to know what she can personally about her patients which I love! Every time I've got adjusted at FCC and walked out I felt both physically better and emotionally more positive! Cheers and make sure to check out FCC trust me you won't be disappointed!
– Stephan M.
So Grateful
Wow. Just wow is all I can say. I LOVE coming here! The moment I walk through the doors, I'm greeted like they've known me all my life. Their customer service is unparalleled and I've never felt as confident and healthy as I do now since I've been under the care of Dr. Katie.
I particularly like the extra steps that Dr. Katie takes to make sure I leave with a smile on my face post-adjustment. She incorporates education into her services so you understand what's happening to your body, and in doing so I've become more cognizant of my posture and how I treat my body.
She asks me questions like, "What is going to be the best part of your day today?" and that question usually keeps me centered and uplifted throughout the entire day.
Their receptionist, Taylor, is the sweetest gal, and I always look forward to coming in and chatting for a moment before my adjustment.
I'm so grateful I found Family Connection Chiropractic and I simply cannot recommend them enough!
– Zachary R.

Family Connection Chiropractic Reviews | (619) 818-7290