New Practice Members at
Family Connection Chiropractic
In our warm and friendly environment, you'll quickly know that you've come to the right place. At our awesome practice, we're all about connection and spreading love and support to our practice members.
When you enter into our bright, open space, we'll greet you by your first name and offer you a complimentary beverage. Kids are always welcome, whether members or not, and have access to a safe play area.
The Initial Consultation
When you book your appointment online, we ask that you complete the paperwork included. As part of our three-stage intake process, the next two appointments will be scheduled as well. The initial consultation typically takes 30-45 minutes; the subsequent visits will run around 15-20 minutes.
When you come in on Day 1, you'll have a consultation with our chiropractor. Dr. Katie will explain what chiropractic is and how it works; any questions or concerns are addressed. Your complete health history is reviewed to find the root of your problem. A computerized posture scan and/or thermal nerve scan, physical examination and other tests will be performed as needed.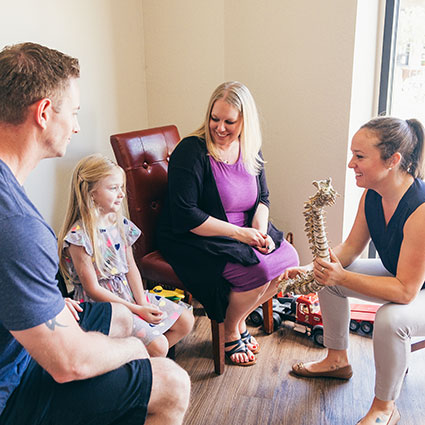 On your next visit, we will review your scans and other results. A complete explanation is given on what the problem is and the impact on your body. You'll also receive your first adjustment during this visit.
The final part of the intake focuses on the care plan, including the frequency of treatment needed. Financial concerns are discussed; Family Connection Chiropractic is a cash-only practice, payment options are available.
After all your questions are answered, the decision to proceed is in your hands and membership options will be offered.
Dr. Katie uses a system designed to make chiropractic care affordable for every single individual in the family. There are no contracts and people can opt out at any time. We offer monthly or per visit payment options.
Families with four or more children can opt for affordable monthly memberships. This ensures all parents, babies, kids and teenagers in the family can get checked and adjusted for optimal growth, development and overall health.
Family Connection Chiropractic also has a non-profit called Hands For Life-Kensington that serves people in financial hardship, first responders, and underserved people of the San Diego community.
Ready to Book?
We'd love to welcome you to our practice! Let us help you get healthy, so you can enjoy life again. Start today, contact us for an appointment at (619) 818-7290.
CONTACT US »

New Practice Members at Family Connection Chiropractic | (619) 818-7290